Superbill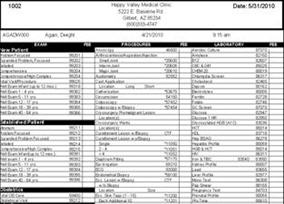 The superbill or fee slip provides the physical paper trail of the patient encounter. This document is also referred to as an encounter form. It is an important feature when you consider purchasing medical billing software.

Ask your software vendor the following questions to ensure that you make the right choice regarding this very important documentation.






Can an encounter form be customized to add information the provider wants to see?



Naturally it should include the patient name, date and appointment time. Other helpful information to include is co-pay amount, insurance company, appointment note, previous diagnoses, and remainder balance.





If we have a walk-in patient, can I print the fee slip on the fly?



A medical office is a very busy place. The less mouse clicks, the better. You should be able to print a single encounter form with little effort.





How easy is it to customize the fee slip?



CPT and diagnosis codes change every year and it is important to be able to easily update the encounter form. This will be a bigger issue for practices that use lots of CPT and diagnosis codes.





Is there an electronic superbill? Can the provider access the form on the screen to enter the CPT and diagnosis codes?



Electronic medical records software usually has this capability but is also available in medical billing software like AdvancedMD. Having this electronic document is a very nice feature if the provider is very hands on with computers.





Can I customize the form to adjust the font size and positioning?



Some software is more flexible than others as far as making changes to the structure of a form. Readability is important so if you need enlarged fonts, this would be a good question to ask the vendor.





Is there an internal mechanism in the software to keep track of which fee slips have not yet been billed?



This is a very nice feature to have. Practices lose thousands of dollars every year in missed billing. Providers sometimes delay coding their visits, and fee slips are misplaced or lost. A mechanism that matches appointments to billed charges eliminates the need to manually keep track of missed visits. This is a very nice to have feature.


These are questions to be sure to ask your software vendor because the patient encounter form is an important feature for both the practice and the medical biller.



From Superbill Back To Medical Billing Software
From Superbill Back To Home Page