Medisoft Review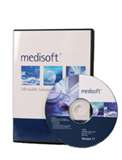 This Medisoft review is of the Advanced Patient Accounting® system. Compared to other practice management systems, this software is very reasonably priced. This is why it is sometimes dismissed as "cheap software." In fact, it is widely used, full featured, and a mature product that has been around for years. It "gets the job done" while keeping administrative costs low which is why we chose it as the primary software for our billing service. Click on the Medisoft link to find product and training details.
But as I've said before, there is no such thing as perfect software and our reviews demonstrate that. Our software review is as follows:
| | |
| --- | --- |
| | Graphic User Interface or GUI - The software has an intuitive design. The data fields are well laid out with easy to read data labels and buttons. The navigation is good and you can easily transition from one screen to another. |
Patient Scheduler - Version 17 Advanced Patient Accounting includes the patient scheduler called Office Hours Professional®. It has special features ideally suited for multiple provider offices. The graphic interface of the scheduler is intuitive and easy to use. It has color coded appointments, repeating appointments, wait list, and capability to reserve rooms and equipment. Patient remainder balances are reflected in the appointments, copays can be collected, and receipts printed right from within the scheduler.
Appointment time intervals are global and cannot be adjusted by provider. Setting unique schedules can be done but it is limited. I have found that Office Hours Professional® is more than adequate for most practices. However, some offices have greater needs that require stand alone software designed specifically for enhanced scheduling.
| | |
| --- | --- |
| | Demographics/Support Files/Insurance Entry - Demographic entry is enhanced through the use of default settings and a self populating zip code feature. Case based accounting is used to store history on insurance and variedbilling scenarios. This feature makes Medisoft® especially good as chiropractic software. |
| | |
| --- | --- |
| | Transaction Entry - Medisoft® has an easy to use interface for entering charges and patient payments. Everything you need to see is included on one screen. Information can be added "on the fly." Avoid mouse clicks by using shortcut keys for easy data entry. |
| | Reapplying payments from one charge to another takes several mouse clicks and screen changes to identify the payments and unapply and reapply them. |
| | |
| --- | --- |
| | Claims Processing - In some systems, claims processing happens behind the scenes. Not so with Medisoft®. You can see all the claims details on the Claims Manager screen. Claims can be identified, sorted, and manipulated in a variety of ways. Secondary claims are easily handled. You can set them to crossover or elect the option to delay printing until the primary claim is paid. Electronic claims are handled in Revenue Management where you can send primary and secondary claims electronically, see claim reject reasons, and view and archive reports. |
| | Transaction entry and claim processing are separate processes so the workflow between the two is not as smooth as it could be. You have to close out of Transaction Entry before you can open the Claims Manager. |
| | |
| --- | --- |
| | Electronic Remittance Processing - Posting EOBs automatically is a time saving feature and it is much improved beginning in version 16 of Medisoft and the Revenue Management module. Refer to this example of electronic remittance advice. |
| | |
| --- | --- |
| | Deposit Entry/Insurance Payment Application - Daily deposits are easy to reconcile. You can print deposit lists for balancing and attach them to your bank deposit. Insurance checks are applied on just one screen which includes payment, adjustment, deductible, takeback, and a place for statement notes. |
| | |
| --- | --- |
| | Statements - Like many features, they take time to perfect but the evolution on statements is finally complete. You can run standard and remainder statements and use the cycle billing feature if you wish to. Refer to our medical billing collection page for more information on how cycle billing works. Statements are easy to read, look good printed on plain paper, can include notes, and deductible information. They can also be sent electronically. |
| | Statement Manager is one area of the program that requires some training. There is setup to be done before running statements and rebilling statements can be tricky, however, once you understand the process, the statements are easy to generate. |
| | |
| --- | --- |
| | Collections - Medisoft® has an automated Collections Worklist that allows the user to work a paperless insurance and patient aging. All the information needed is on the Collections List screen: insurance company phone number, patient ID, DOB, dates of service are one click away. Enter notes and assign followup dates. The worklist tickler system will display only the items that need to be worked on. |
| | | |
| --- | --- | --- |
| | Reports - I have been selling Medisoft® for years and my biggest complaint has always been the lack of adequate reports. Finally, after years of waiting, that problem has been solved. The software now comes standard with 228 reports that will meet your needs. The flash report is one of my favorites. | |
| | |
| --- | --- |
| | Security is an easy-to-set-up feature that gives the administrator the ability to control user access to add, edit, or delete records, run reports, and limit access to various parts of the program. You can run production reports by user, check the audit trail, or verify user entry in order to see what is really happening with the office. |
Accounting - Medisoft® is "real time" processing and does not have a "day close" or batch processing feature. This is common with many low end practice management systems or accounting software like Quickbooks.

To compensate, there are workarounds that can be implemented in lieu of a close feature. Using security features to limit user access is important to protect against deleting records and adjusting entries can be made to correct errors. Balancing the books is handled manually, if you will.

Most small medical practices are on a cash basis for accounting purposes, so I don't see this as being a deal breaker. However, some multi-provider practices, billing services, and non-profit organizations have strict accounting requirements and would consider these additional manual procedures a burden, in which case, they may want to consider higher end software.
Explanation of Batch Processing vs. Real Time:

The "batch process" is familiar to accountants, but most users don't give it much thought. Each day's work is "batched" and the batch is closed at the end of the day. This makes permanent every transaction entered into the system for that day. Records cannot be deleted, they are instead voided and the transaction amounts are deducted from the Day Sheet totals. Edited transaction amounts are also voided and reprocessed with any adjusted amounts reflected on the Day Sheet totals. In this way, the history of all transaction changes are accounted for. Without this feature, no history is stored on deletions and changes. They take place in "real time."
System Performance/Technical Issues - Medisoft® is easy to install, setup and use. If hardware requirements are met, Medisoft requires little technical support once the database is set up. An annual maintenance agreement is very reasonably priced compared to other software and many practices forego these agreements and simply pay for support when it is needed.
As a Medisoft® database increases in size, you may experience reduced speed in processing statements and reports. Increased RAM can usually alleviate this problem. Also, running utilities to purge old records may improve processing time.

Upgrading or converting a database from one version to the next may require file repair especially when a practice has not upgraded for several years. System power outages, brown outs, or network interruptions can also cause data errors. Additionally, running Medisoft in a wireless network environment is not recommended because data corruption can occur. This problem can be corrected by restoring a previous data backup or by contacting us for file repair.
Technical Support - McKesson provides internet support at the Practice Partners website. You can log a case online and request a call back or email response. Turnaround time varies from 1-2 days. Support plans or "pay as you go" support is also available through Value Added Resellers. Obtain training and support by telephone, online, or onsite at your office.
It is best to call McKesson telephone support very early in the morning Eastern Standard Time. If you want faster service or if you are a user that requires more hand holding, it is best to obtain support from a Medisoft® Value Added Reseller.
I hope this review has been helpful to you. To improve your knowledge on how to choose the right software for your practice or medical billing service, I encourage you to read our medical billing software articles.
From Medisoft Review Back To Medical Billing Software Review
From Medisoft Review Back To Homepage
..."Quality is never an accident; it is always the result of high intention, sincere effort, intelligent direction, and skillful execution; it represents the wise choice of many alternatives"... -William A. Foster
Medical Billing Starter Kit:
Download it now for just $49!
A step by step guide for new medical billers on a budget. Bonus material includes: sample marketing postcard, contract, and many forms you can modify and use.
ICD-10 implementation is effective 10/01/14. Here's an example of the new CMS-1500 02/12 claim form.


We know it's great software, but don't take our word for it. Take a test drive. Download TotalMD today!


Improve your practice bottom line. Learn the best tool of the trade to improve your Patient Collections.

What's new? Visit our blog for straight talk on collecting Medicare EHR incentive funds.