Electronic Health Records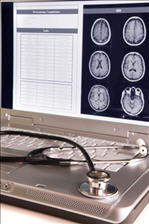 By helping some of our medical billing service clients with their electronic health records (EHR)software, we have gained some insights we would like to share with our readers. We hope this information will help providers make the best choice for their practice and pocketbook.
All certified electronic health record systems are required to have features like e-prescribing, entering allergies, problems, medical history, and medication lists. Where EHR systems differ the most are in the following areas:
Office visit templates vary from simple rapid text, to canned templates with dropdown choices or picklists, and even more advanced templates with decision trees or templates within a template. If your notes are straightforward, you type well, or use speech recognition software, a simple template may work for you.
Practice Fusion, the free EHR software, is an example of a system with very simplistic office template design. For slightly more sophisticated templates, SpringCharts is a good choice. For even more sophisticated templates for providers with very detailed and complex notes workflowEHR is an excellent choice.
Scanning is an often overlooked feature. The original electronic charting systems were primarily scanning solutions. The medical office is still very paper driven, so scanning should be easy and efficient. Scanning in many systems requires that you scan to your hard drive first and then attach the file in the EHR.
It is surprising how many good systems short change us on this feature. SpringCharts has a better scanning feature than most but it does require several clicks to complete the job. Of the EHRs we've looked at workflowEHR is, by far, the best choice for one touch scanning. At a minimum, your EHR system should have the ability to receive faxes in the EHR which cuts down on the need to scan. Some have a cost per page and others do not.
Document formatting is another important feature that most providers like, but specialists insist upon. Practice Fusion and SpringCharts have little formatting available, however, workflowEHR handles documents well. Keep in mind, EHR vendors are making improvements all the time, so what doesn't work today may be improved upon in later releases.
Price is a consideration for every practice. Prices on EHR systems range from free to hundreds of thousands of dollars. The EHR systems we recommend are very reasonably priced. Because prices vary so much by user or provider, we don't quote them on this website, however, if you call us, we will be happy to discuss your requirements and give you a quote.
One of the meaningful use requirements of an EHR system is a patient portal. This is a secure website that provides for communication between the doctor and patient. Patients can log on and enter their personal health records (PHR) and doctors can send chart records, instructions, lab results, etc. to the patient. In the systems we have looked at only workflowEHR and MediTouch automatically enter the personal health record into the EHR system. This saves the practice a lot of time on data entry.
The road to choosing the right EHR system is fraught with pitfalls. This article answers frequently asked questions, provides information about how to make the best EHR choice, and tips for a successful implementation.
Frequently Asked Questions

What is the potential financial benefit of the healthcare IT incentives to physicians?
Each office-based physician who meaningfully uses a certified EHR could receive up to $44,000 (Medicare) or $64,000 (Medicaid) in government funding. Office-based physicians practicing in rural or underserved areas would be eligible for up to $48,400 in Medicare incentives. It's important to note that these figures represent the maximum allowable incentives under the Medicare and Medicaid programs, and that physicians may only qualify for either the Medicare or the Medicaid funding, but cannot qualify for both.


Who qualifies as an eligible professional?




"Eligible professionals" under the Medicare HIT incentive program include:
A doctor of medicine or osteopathy
A doctor of surgery or of dental medicine
A doctor of podiatric medicine
A doctor of optometry
A chiropractor
The Medicaid HIT Incentive program expands the definition of "eligible professionals" to include:
Certified nurse mid-wife
Nurse practitioner
Physician assistant (under certain circumstances)

Do you have to be a Medicare participating provider to qualify under the Medicare HIT incentive program?
No. A non participating Medicare provider is eligible for the incentive program.




To receive Medicare incentive payments, the physician must:




Not be hospital-based
Demonstrate meaningful use of a certified EHR

Submit Medicare Part B claims of at least 133% of the maximum incentive for a program year to qualify for the maximum incentive payment.

To receive Medicaid (Medi-cal)incentive payments, eligible providers must:
Not be hospital-based
Demonstrate meaningful use of a certified EHR

Treat a patient population, of which at least 30% receive medical assistance (or 20% if the physician is a pediatrician).

When will the payments be made?
Funds became available for office-based physicians on January 1, 2011 (and are eligible to apply through January 1, 2012 and still receive full benefits). Providers should begin planning as soon as possible to allow time to achieve meaningful use of certified solutions during this time period.




Are there additional incentives for office-based physicians to adopt in the early years of the program?



Office-based physicians' maximum allowable Medicare incentive (per provider)are:
1st Payment Year:

*$18,000 if 1st payment year is 2011 or 2012
*$15,000 if 1st payment year is 2013

2nd Payment Year:

$12,000 if 1st payment year is 2014, payments start here

3rd Payment Year:

$8,000

4th Payment Year:

$4,000

Fifth Payment Year:

$2,000 (not available if first payment year is 2014)
*Amount limited to 75% of Medicare reimbursements.

The "early adopter" incentive raises the total amount physicians can qualify for from $41,000 to $44,000. A benefit for office-based physician early adoption does not exist under the Medicaid incentive program.




What are the penalties if healthcare providers do not implement EHR technology and report quality data by 2015?



For office-based physicians who do not adopt such technology by 2015, Medicare payments will be reduced by the followingfactors in the years specified:
2015 1%
2016 2%
2017 3%
2018 and beyond- max of 5%

What is meant by "meaningful use" of healthcare IT?
Funding and incentives are tied to "meaningful" use. Generally, the requirements to be met are:

The physician is using certified Electronic Health Records (EHR) technology in a meaningful manner. The certified EHR shall include the use of electronic prescribing as determined to be appropriate by the HHS Secretary.

Information exchange. The physician is using certified EHR technology for the electronic exchange of health information toimprove the quality of health care, such as promoting care coordination.


Reporting of clinical quality measures using EHR.



Tips For Choosing an
Electronic Health Records System

Purchase Interfacing Systems
Your EHR system must easily interface with your practice management system. Traditional Electronic Health Records systems are usually "cobbled together" and they may not properly interface. Will your EHR vendor handle any problems with the interface or will they tell you to call the practice management software vendor? I can tell you from personal experience; that is the ultimate Catch 22 technical support nightmare.
It's helpful to get referrals from practices that are already using the EHR system AND your practice management system.




Point of Care Usability
The EHR solution you choose should offer total point-of-care usability. Physicians, nurses, receptions, all other care providers must be able to quickly access and document patient information directly from the point-of-care without inhibiting any aspects of the patient's visit.
Many EHR solutions center on the chart templates and complex macros. They altogether miss the boat on interoffice workflow and intuitive design. Ease of use and flexibility are critical. If it takes too many mouse clicks to handle a task while the patient is in front of you, then duplicate processes are required and any increased efficiency you expected from you EHR will be lost.




Make An Up Front "Apples To Apples" Comparison
It is important to remember that when choosing EHR systems, request a quote of all the associated costs for the practice over a three year period. This includes software and hardware costs, annual software upgrades, maintenance fees, training and support fees.
Some EHR companies make it easy to overlook additional costs during the sales cycle. For example, an initial sales quote is typically a minimum system and the cost may vary widely by number of simultaneous users and numbers of providers and mid-level staff. These companies rely on the fact that once the practice has invested in the initial product, you will be reluctant to switch even if the additional or "hidden" costs are significant.



Implementation Tips

Implement Your System In Stages
Medical offices are very busy places so adding an Electronic Health Records system places a huge burden on the staff. That's why it's a good idea to start off small and build your way up.
Begin by using a limited EHR feature like interoffice messaging. This allows the staff to get the look and feel of the software. Next you can start to scan insurance forms, demographic and HIPAA forms. Follow that with customizing letters to patients and referring providers. This peripheral work is important and requires a lot of setup time.
While the implementation process is moving ahead, the doctor can begin to create note templates. It is very important to have at least some of this in place before going live.




Develop Your Point of Care Workflow
Most doctors find it difficult to transition from paper to electronic. The biggest challenge is entering the note at the point of care in the exam room without inhibiting any aspect of the patient visit. Doctors that are proficient with Tablet PCs or have great typing skills do best. Initially, many providers will enter the note only after the patient has left the exam room. Many providers will make the transition to using the EHR in the exam room. However, for some doctors, this will never happen and that is perfectly acceptable. An Electronic Health Records or EHR system will still be of great value to the practice.

It is helpful to assign one staff member in the office the task of co-ordinating the EHR implementation. This is the "go to person" for all questions and the liason with the software trainer. Also, depending on the practice, it can be helpful to designate a "scribe" to enter chief complaint, present illness and review of systems which helps to lighten the load for the doctor.