Medisoft
Advanced Patient Accounting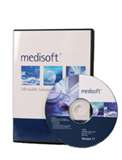 Medisoft is known for its ease of use, flexibility, and simple interface. It accomplishes everything you need or want in a practice management system. It is a cost effective solution for the one to five doctor practice.
We have been value added resellers of Medisoft for 18 years and we also use it every day in our medical billing service for many of our clients. Through many years of training office staff, we have designed a low cost, yet comprehensive, two-part education program using:
Medisoft online training videos
combined with
Medisoft live training
Medisoft offers comprehensive reimbursement management capabilities, letting you create, send and track claims and statements with ease. You can manage all of your claims and statements from one central location. This helps simplify the administration process within your practice.
If you are already using an older version of the software, review this features evolution list to see what has changed. Also, always review the current system requirements before considering a software purchase.
Medisoft is available in three versions. We have included base prices for your convenience, however, total cost may vary if you want other modules like Codes On Disk, coding tools, and seat licenses for multi-user systems. In addition, discounts or sales may be available. Contact us for detailed quotes.
| | |
| --- | --- |
| Description | Price |
| Original Single User | $499 |
| Advanced Single User | $1299 |
| Network Professional Multi-user | $3599 plus seat license |
There are many differences between the Original and Advanced versions so we have included a Medisoft Feature Comparison for your review.
If you are just starting out with a small practice or billing service, the Original version may be adequate. However, as your practice expands and you increase your volume of insurance claims and statements, then the Advanced version will be essential. As you add more system users, you will want the Network Professional version. McKesson offers trade-in credit when you "move up" to a higher version.
From Medisoft Back To Medical Billing Software Reviews
From Medisoft Back To Home Page