Our Medical Billing Resumes
Christina and I are providing you with our medical billing resumes because we realize that you have many choices when it comes to selecting your medical billing company, or purchasing software, training, and support. We want and value your business. We hope these medical billing resumes will help you get to know us better. References are available upon request.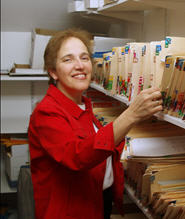 Medical Billing Resume for
Janice R. Humphries
Profile Summary
25 years professional experience in insurance software training and support.

20 years experience in bookkeeping and sales, payroll and income tax preparation.

15 years working in my home-based medical billing service. Working knowledge of several specialties including: orthopedics, endocrinology, psychiatry, substance abuse facility, pediatrics, podiatry, internal medicine.

15 years experience software installation, data setup and/or conversion, troubleshooting, data testing, documentation, classroom instruction.
EMPLOYMENT EXPERIENCE
QuickStart Software & Billing Service - Santa Rosa, CA
Position: President/Owner
06/1992-Present

Andrea S. White Estate - Santa Rosa, CA.
Position: Estate Trustee
Part-time: 03/2001-08/2004

Winfield H. Hughes, C.P.A. - Santa Rosa, CA.
Position: Income Tax Preparer
Part-time: 11/1993-12/2004

Accounting on Computers - Santa Rosa, CA.
Position: Quickbooks Trainer & Bookkeeper
05/1995-09/1998

Executive Life Insurance Company - Los Angeles, CA.
Position: Supervisor, Training & Support Unit
06/1985-04/1992

EDUCATION
Central Connecticut College - New Britain, CT.
B.S. Accounting
1975-1979

DUTIES PERFORMED
Supervise staff up to 30 employees, hire, provide training, maintain detailed job performance reports, perform staff evaluations, document and handle disciplinary problems.
Plan, organize, and facilitate staff training.
Write detailed software specifications for system modifications, develop test plans and oversee data testing process.
Develop training manuals and conduct classroom training.
Evaluate small medical practice requirements, install software, perform data conversions, develop and implement more efficient workflows and procedures as needed.
Design and develop custom reports and forms using various report designer software.
Develop procedures to facilitate billing and collections. Ensure all services rendered are properly authorized, documented, accurately billed in a timely fashion. Verify and reconcile billing and cash collections.
Monitor monthly production and A/R reports in conjunction with accounting process. Review all physician productivity and billing data.
Monitor monthly productivity statistics and key financial indicators (e.g. lag days, missing charges, rejection rates) to assess accuracy and effectiveness of processes and identify trends needing immediate corrective action.
Review physician productivity and billing data.
ADDITIONAL SKILLS & ABILITIES
Excellent oral and written communication skills.
Excellent analytical skills with attention to detail.
Excellent software training skills and software problem troubleshooting.
Experienced working with small medical practices, maintain excellent relationships among support and physician staff.
Excellent organizational skills to manage multiple and competing priorities.
Ability to work, plan, research and conduct projects
Thorough knowledge of medical insurance billing procedures, electronic processing of claim transactions, CPT, and ICD-9 coding.
Excellent knowledge of operations and various software applications such as: Medisoft, AdvancedMD, TotalMD, Quickbooks, Microsoft Office, Focus Reports, Visual Basic.
Thank you for reviewing our medical billing resumes. Please contact us if you would like to review our references and feel free to contact us at any time.

..."Quality is never an accident; it is always the result of high intention, sincere effort, intelligent direction, and skillful execution; it represents the wise choice of many alternatives"... -William A. Foster
Medical Billing Starter Kit:
Download it now for just $49!
A step by step guide for new medical billers on a budget. Bonus material includes: sample marketing postcard, contract, and many forms you can modify and use.
ICD-10 implementation is effective 10/01/14. Here's an example of the new CMS-1500 02/12 claim form.


We know it's great software, but don't take our word for it. Take a test drive. Download TotalMD today!


Improve your practice bottom line. Learn the best tool of the trade to improve your Patient Collections.

What's new? Visit our blog for straight talk on collecting Medicare EHR incentive funds.